"Quirky and smart, a poet with a guitar, SONiA is a master of crafting songs that make you simultaneously want to dance, sing and change the world." 
Georgia Voice, USA
What A Wonderful World ...
SONiA disappear fears soothing and warming concert ended this year's concert series of "Thomas Waldherr presents Americana". Somehow, Bob Dylan was always there too.
Wonderful. Beneficial. Warming. Sonia Rutstein's (aka SONiA disappear fear) concert was just the thing at the right time. As the pandemic picks up again and people worry again, SONiA's concert was the ray of hope, glimmer of hope and distraction we all need to get through these times.
Her wonderful piano version of the classic "What A Wonderful World" alone touched hearts. Just like her tender "The Princess & The Honeybee." She is a wonderful philanthropist and fisher of men, she quickly had the audience under her spell and always switched between soulful and committed songs. Hardly anyone has mastered it like the multiple Grammy-nominated US singer-songwriter, whose cousin is Bob Dylan and whose most important influence is Phil Ochs. And so she played John Lennon's "Imagine" as well as her own protest song "The Banker," sprinkling political warnings like "By My Silence" (based on Martin Niemöller) as well as songs about her own identity ("Me Too").
She likes to come to Germany again and again and of course she also sang "Wandering Jew" in Darmstadt, her song about her strong relationship with Germany and above all with the people she met there. After the curator of the concert series was called onto the stagefor SONiA to accompany his vocal performance of Bob Dylan's "Mr. Tambourine Man," the concert ended with the encore and the sounds of Leonard Cohen's" Hallelujah." There was cheering and applause and some did not even want to go home. We'll see you again, dear Sonia, we're really looking forward to it!
© by Cowboy Band Blog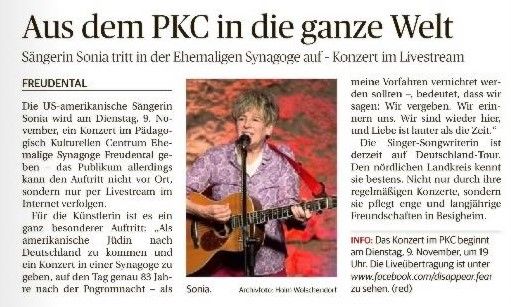 From the PKC to the Whole World

Singer Sonia appears at the former synagogue - concert via livestream
Freudental
US-American singer Sonia will give a concert on Tuesday, November 9th, in the Pedagogical Cultural Center at the Former Synagogue Freudental - the audience, however, will not be able to follow the performance on site, but only via livestream on the Internet.
It is a very special performance for the artist: "As an American Jew to come and perform a concert in a synagogue in Germany, 83 years to the day after Pogromnacht – when my ancestors were targeted to be destroyed – means we are saying, We forgive. We remember. We are here again, and love is louder than time."
The singer-songwriter is currently on tour in Germany. She knows the northern district very well. Not only through her regular concerts, but she maintains close and long-term friendships in Besigheim.
Spirited, lively, committed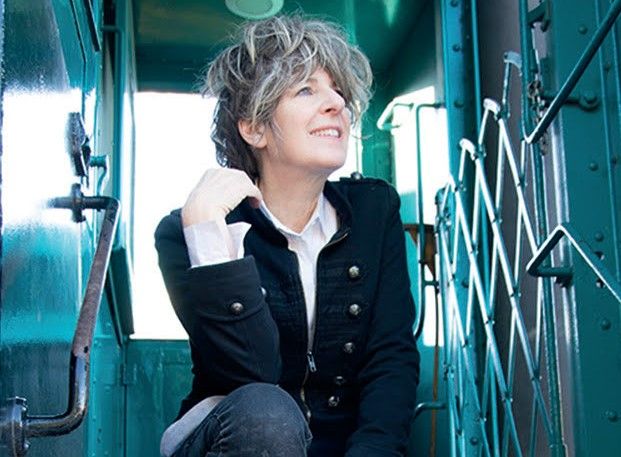 November 5, 2021
by Thomas Waldherr
SONiA disappear fear to return to Darmstadt Americana Series on November 25th
She is a welcome regular guest of the Darmstadt Americana, series and like no other artist, she embodies the attitude of the concert series on the side of a peaceful, diverse and solidary America: Sonia Rutstein aka SONiA disappear fear. On Thursday, November 25th, the multiple Grammy-nominated singer-songwriter and cousin of Bob Dylan will appear for the first time in the new venue of Thomas Waldherr's series, the Bessunger Boys' School. The concert starts at 8 p.m., tickets are 12 euros (reduced rate 10 euros). Tickets are available at www.knabenschule.de. The artist stands for catchy folk-rock melodies and a spirited, energetic performance, in her songs she turns against homophobia, racism and violence.
Enjoys being in Germany
The small, petite and lively musician came to Germany despite the ongoing pandemic. Here she not only gives concerts, but is also involved in other activities. "Another really fun reason I'm on this tour is to do songwriting workshops," she says. "Both in Rosenheim and Hof I led songwriter workshops for the preselected 22 students. To go from nothing to a mutual creation was and is an excellent experience to be part of. These were very exciting days!"
For November 9th, the anniversary of pogrom night, a global, virtual live stream concert is planned in a synagogue in Freudental. The free global livestream is being broadcast via the SONiA disappear fear Facebook page. An American Jew, she consciously chose to appear in a synagogue in Germany that evening. "I love and trust Germany now. I feel welcomed and safe here. Germany was my ancestral home too," explains the Baltimore-based artist. And makes a very clear programmatic statement the headline for this concert: "We must remember what happened so we will never let it happen again."
In general, Sonia Rutstein's relationship with Germany is now very close, and over the years she has made many friends here. "I feel very at home here. The great thing is my friends here are completely supportive," she confirms.
Role model Phil Ochs
Although she is the cousin of Bob Dylan – their aunt Harriet Rutstein taught the young Bobby Zimmerman to play the piano – and admires the artist and his music very much (a Dylan cover is usually part of her set), her main musical influence is Dylan's contemporary Phil Ochs. "I feel so connected to his songs. It really is his songs that discovered at the age of 16 that made me feel I was not alone in this world," she recalls. These songs stayed with her to this day. "I have learned many of his songs especially earlier in my guitar life. Although most of them are quite political, many of the topics like racism, inequality, fascist governments and violence still pervade our societies today. So his songs still need to be heard, pondered and enjoyed."
Humanitarian and social commitment in general is very important to her. She has been campaigning against racism and homophobia for a long time, and for a number of years she has been campaigning for the release of Nudem Durak. "Nudem Durak is a young Turkish woman who has been brutally treated and imprisoned simply for singing in Kurdish. I believe the crime is the law against self expression. So I wrote song in Kurdish and English to keep Nudem's Kurdish alive. The lyrics explain it all in only four lines: 'We will sing for you / Your voice will be heard / We are one family / We are one world.'"
She also has a very clear stance on the situation in the USA: "I am a progressive democrat. I support Biden's agenda. There seems to be a fatal grip on the neck of American freedom and progress. We are being strangled by cold, narcissistic republicans fueling the fires of ignorance and hatred. It is barbaric."
"Warmth of the Darmstadt audience"
No wonder that she always likes visiting her friends in Germany, and has been coming to Darmstadt for a number of years: "I totally love being part of this special music series. I am honored to participate. There is a warmth from the audience that I felt from the very first time I performed in Darmstadt."
Americana curator Thomas Waldherr looks forward to SONiA's appearance: "She's a good friend. Last time she was here, she was part of the big Pete Seeger evening in 2019, and now for the first time since 2018 will play a solo concert here. With her music and her person, she embodies the attitude that our Americana series stands for. It will be an atmospheric evening."
(translated from Cowboy Band Blog)
Folk for FOS Students:
Bob Dylan's Cousin teaches Workshop for Students
by Annerose Zuber
Many young people dream of a career as a musician. Students at the Fachoberschule in Hof have now learned how to write lyrics and compose music: Sonia Rutstein, a cousin of Bob Dylan, stopped by in class.
English lessons of a different kind: This is what the Fachoberschule und Berufsoberschule (FOS / BOS) Hof offers at irregular intervals. And so it can happen that American folk musician Sonia Rutstein – cousin of 80 year old Bob Dylan – teaches a songwriting workshop.
The guitar is her best friend, says the popular folk singer, who has released more than 20 albums. She wants to infect young people with her enthusiasm for music, the elixir of life. "At the workshop I want to give them the opportunity to discover their own feelings and translate them into music. Music has so many positive effects, and it is direct communication."
Sonia Rutstein: On tour around the world, now visiting Hof
Rutstein tours around the world, giving workshops at festivals. The fact that she now works with technical college students for a whole day at FOS in Hof is thanks to a coincidence. She made several appearances at the small cultural association "Folk Club Isaar" in the district of Hof. Elke Rost, the second chairwoman of the cultural association, is also an English teacher at FOS. Rutstein immediately took up her idea for the songwriting workshop. "This school project was her first in Germany," said Rost. FOS Hof has a focus on "music" in the field of social studies.
A total of 20 students from Hof will take part in this year's workshop. They are looking forward to the uncomplicated collaboration with the multi award-winning artist.
Workshop also furthers students' English skills
Rutstein gives advice to the small groups, for the chorus of a song or the appropriate key. Thus inspired, the youngsters work on their first song. Naturally, they speak English all day. For teacher Kristina Kemnitzer, who organized the workshop, this playful preparation for a language test is just one of the many positive side effects of the day's music project. "The students can advance their own creativity and acquire skills that go beyond the usual lessons."
Headmaster Thomas Reitmeier too is enthusiastic about the workshop, and is pleased that the Ministry of Culture financially supports projects like this. The workshop also includes a discussion with Terry Irons, Sonia Rutstein's manager. She informs the young people about the many career opportunities behind the stage and, for example, in the field of music therapy.
After two hours of intensive work, there's a world premiere in the classroom: The first group presents their song: "Lemon Cake". It's a song about a first kiss – in a café, over a pice of lemon cake.
[See BR website for video]
10/22/21 © by BR
Sonia Rutstein
Bob Dylan's Cousin visits Hof
by Christoph Plass
"Good music comes straight from one heart and reaches another": Sonia Rutstein at FOS / BOS.
The singer-songwriter from the USA is visiting Hof: on Thursday she will work with students at the vocational high school, on Friday evening she will guest at the "Trompeter". When you meet Bob Dylan's cousin, you will sense that it she's all about authenticity, feeling and humanity.
Hof / Philadelphia - The whole thing is a crash course in minimalism. Cell phone gone, headphones out and the next day's schoolwork doesn't matter right now. Instead, the students sit in front of a sheet of white paper – and are invited to write a word on it. "What do you think of when I say, 'Lemon Cake,'?" asks Sonia. "Summer", "Yellow", "Sweet." - "Your worst nightmare?" - "Loss." - "A kiss?" - "Security." And so it begins. For a day, the students at the vocational high school study with someone who really knows how to turn something very small into something very big.
Sonia Rutstein and her manager and wife Terry Irons are on tour again. Hof, Rosenheim, Darmstadt, then it's off to the musical cruise around Alaska. Their project is called "disappear fear." Sonia sings for human rights, animal rights and the concerns of homosexuals, her themes between the chords are the environment, society and the world of emotions. The two have been in the business for so long, they have to smile when they state numbers. But they are not aging activists, but idealists who have remained young at heart. You can feel that immediately when you see Sonia picking up the guitar.
Four chords, a simple melody line and a few very personal emotions: Sonia doesn't need more than that to create mood, atmosphere and attention. She does this as naturally in front of 20 shy students as she does on the big stages and musical formats: "It's important to us to work with you here because music is one of the things that goes straight from one person to another," she says. This little woman is one of the big ones. Her door opener for many occasions comes from her own family: Bob Dylan is one of her cousins. But anyone interested will find a long list of award-winning albums and singles, countless international tours and loads of awards – musical as well as humanitarian. But of course, Sonia and her manager are also emerging from a completely different time right now.
"We've had almost 20 months without a gig," said Terry Irons. She gives the students an insights into the subject of concert management: Irons is the woman with the logistical approach, who usually makes sure that all band members are at the airport on time, that the instruments are on stage at the right time and that no PR interview on the radio is missed. "If four of you write a song together, everyone gets the same amount of royalties from Gema – even if one of you did most of work," adds Sonia. The old-fashioned wisdom at this point: "Practice can be boring, but it is necessary. It helps you focus." But apart from that, artistic freedom is her thing. She has only one request for the students that day. "I want something real from you – not just something that rhymes with the previous line." That is asking a lot, as she herself knows: "Good music comes straight from one heart and reaches another." Anyone who writes and sings songs like this lets their pants down and exposes themselves to others. As a result, everyone involved approaches the task very carefully this morning.
"What did you say about lemon cake again?" asks Eileen. She is sitting in the next room with Anna-Lena, Jana and Lena. Some of them have the guitars on their laps, others have papers and pens on hand. And now to somehow find a line for a song. Sonia, the lively one, helps and nudges, asks questions and laughs, ponders and encourages: A mistake is only the first step towards doing it right. Sonia and Terry are guests at FOS / BOS in Hof for the third time, they were previously at the school for student workshops in 2017 and 2019. This is thanks to teachers Elke Rost and Kristina Kemnitzer, who turn the project day into an all-round package for everyone involved – including performances of song. "None of this is about music as a professional career," emphasizes Sonia. It's about recognizing music as a medium for all of life's situations. And for interpersonal relationships. Sonia – who has played live to tens of thousands of people, wrote music for TV series and a musical, and whose 20+ albums have won awards and (Grammy) nominations – says on this Thursday morning at Hof's FOS / BOS: "Sometimes it is the smallest things that start something big." And the students are sitting in front of their sheets of white paper.
SONiA disappear fear honors Lesbian Visibility Day with a livestream performance
Indie-folk/pop artist performs from recent album "Love Out Loud."
By Doug Rule on April 23, 2021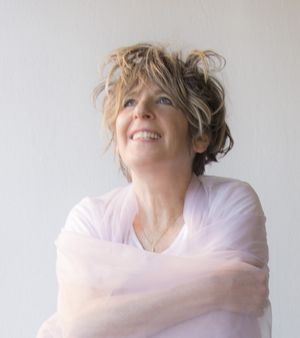 Last June, the lesbian indie-folk/pop singer-songwriter Sonia Rutstein dropped her 20th full-length set, the compilation album Love Out Loud. In any other, non-pandemic year, the artist, known by her musical alias SONiA disappear fear, would have performed the album's songs live before spirited crowds at LGBTQ pride events both regionally and far-flung.
"It's a compilation that really traces the 30 years of my most favorite LGBTQ-related songs from all my CDs," she told Metro Weekly at the time. "Songs like 'Who I Am,' 'Love Out Loud,' 'Gangsters of Love' — songs that talk about being gay and being in love and/or heartbroken, and the price and wonderfulness of being out, too."
Ultimately, such messages are important to hear and be reminded of throughout the year, so SONiA disappear fear is currently readying the songs to be performed at a livestream next week on Lesbian Visibility Day: Monday, April 26.
SONiA — Photo: Lea Morales
"I came out in my music because I knew there were thousands if not millions of little Sonias out there who were choking off the beauty of their souls by not being true to themselves and their sexuality," Rutstein says. "I know firsthand what it is like to hide your sexuality, and I don't want that to happen to anyone else."
The livestream announcement notes that SONiA disappear fear is looking forward to finally returning to touring, and also remains committed to the idea of a proper tour in support of Love Out Loud, possibly sooner than later: "She hopes to finally tour in front of live audiences later this year."
For the time being, however, she'll return to Facebook Live and a production overseen by her wife and manager Terry Irons and originating from the couple's Baltimore home. There's also the promise of a surprise: The announcement lists the lineup as "SONiA disappear fear + special guest."
The Lesbian Visibility Day Livestream is Monday, April 26, at 8 p.m. Free, although donations are welcome. Visit www.facebook.com/disappear.fear.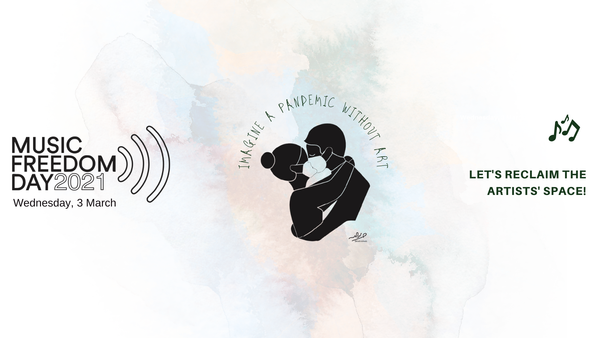 Music Freedom Day Concert
with SONiA disappear fear
International folk-punk legend SONiA disappear fear will be playing a special concert on Tuesday, March 2, as part of Music Freedom Day, a global celebration of the human right to artistic expression.
Freemuse, an independent international organization that defends freedom of artistic expression, conceived Music Freedom Day in 2007 to highlight the role and impact of art in our societies, and to advocate for the universal rights to create, perform and take part in artistic expressions.
This year, by focusing on the theme 'Imagine A Pandemic Without Art', Music Freedom Day intends to raise awareness of the challenges faced by artists and performers during COVID-19, and to remind us not to take art, and the space for artists, for granted.
SONiA issued this powerful statement in support of the mission: "I join with artists from around the world in Kenya, Taiwan, South Korea and another 36 countries, and, although most of us have never met one another, we are fused together in a common bond: that with the founders of freemuse.org of Denmark – art is not a crime. We do not perform for monetary idolization, we perform with the intent of communicating from our hearts that love is love, and we live to proclaim no more gender apartheid, no more LGBTQ apartheid, no more racism, no more imperialism, and no more punishment in the name of God."
"Simply said, I Love Out Loud and I encourage everyone to come out of their personal prison cells and be kind to one another. I am an artist and I am blessed giving and taking the opportunity to share my songs and paintings around the planet. Freemuse.org is an organization that makes my job and our collective quest easier, because the expression of the freedom in art is not always a given. Freemuse provides a network of artists to deliver their creations, knowing that we have medical and legal blueprint that will support artists when we are beaten and imprisoned – that our voices will not be forgotten even when we are temporarily silenced. Through out history we know it is the visionary who flies without fear that brings humanity forward to embrace each other because we are here, now."
SONiA's wife and manager, Terry Irons, will also be speaking during Tuesday's concert. Together, they will bring listeners both the artist's and the manager's views on working through the pandemic.
SONiA disappear fear will be giving her live stream Facebook concert on March 2 at 5pm Central.
3/1/21 © by Country Queer
#artistathome: SONiAs "33. World Disappear Fear Day "02/18/2021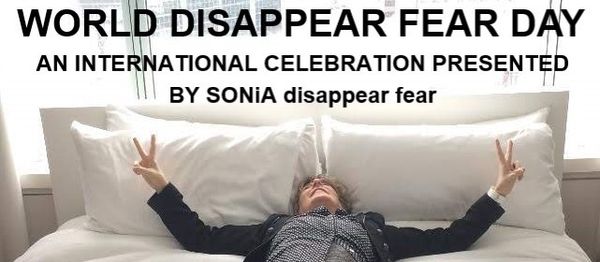 "What would you do if you weren't afraid?" asks LGBT singer / songwriter SONiA disappear fear and invites people to share their vision of a world without fear on the 33rd World Disappear Fear Day on February 18th, 2021. She encourages children, adults, school classes and other groups to create drawings, paintings, photos, stories, songs, poems etc. and send them to her (mail). Selected contributions will be published on February 18th on SONiA's Facebook page and website. With her specially proclaimed holiday and her songs, she wants to strengthen the connections between people - regardless of nationality, ethnicity, sexuality, religion, political background, age or other categories. The core of the band's philosophy is: "If you let the fear between people disappear, you get love."

In the run-up to the event, SONiA will play a special concert live on Facebook on Tuesday, February 16, 2021 at 8 p.m. CET, which will contain songs from her entire career.